Lenhardt's airpark has always been welcoming to many forms of aviation and flying. This includes Ultralight, Light Sport, Amateur Built, Experimental, Rotary and Commercial aircraft. With the diverse category and classes of aircraft come some inherent obstacles, which include speed, maneuverability, visibility, and communications.
As a member of the Lenhardt flying community we want to thank you for keeping the airspace and ground operations of aircraft safe in the past. We would also request your continued courtesy and professionalism in future airport operations.
The airspace around Lenhardt's Airpark has under gone reviews and modification with the activation of the Aurora State air traffic control tower, and that has complicated our operations. Safety and stress-free aircraft operations is one of the great benefits of flying into and out of Lenhardt's airpark. To help promote this we have illustrated the preferred air traffic patterns below.
And always remember, Runway 02 is the calm wind runway and never over fly the school.
Airport Webcams
Click on a webcam image below to view the full-size image. You can also visit the webcams page.
Aviation Fuel
Aviation fuel, 100LL, is available for $5.49/gallon.
Airport Communications
CTAF: 122.9
WX ASOS at UAO (4 nm N): Phone: 503-678-3011
WX ASOS at MMV (17 nm W): 135.675 (503-434-9153)
WX ASOS at SLE (20 nm SW): Phone: 503-371-1062
Runway Information
Runway 02
Latitude: 45-10.706667N
Longitude: 22-44.818333W
Gradient: 0.1%
Traffic pattern: LEFT
Markings: Basic, in good condition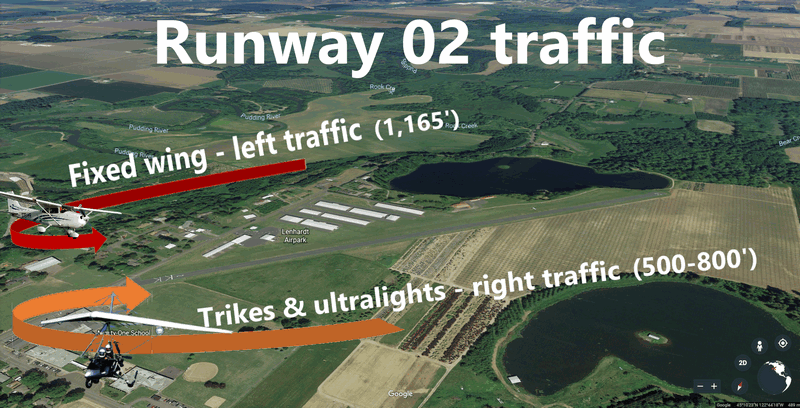 Runway 20
Latitude: 45-10.076667N
Longitude: 122-44.371667W
Gradient: 0.1%
Traffic pattern: LEFT
Markings: Basic, in good condition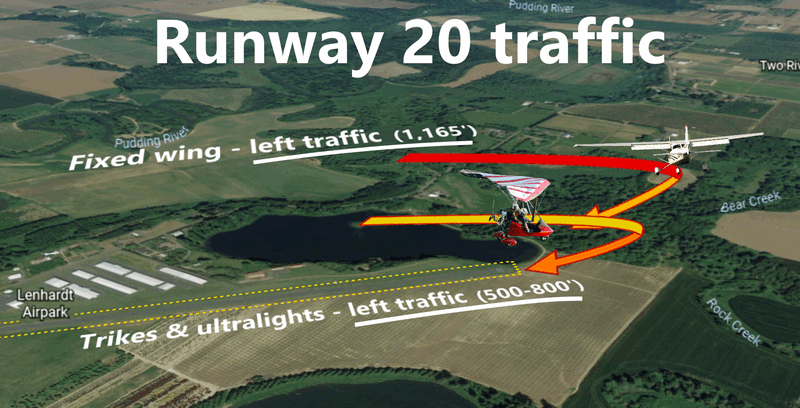 Airspace Information
Below are graphics of the Aurora airspace overview and a closeup of overlay of Lenhardt's Airpark. Click on the image for the full size version.
Remarks
RY 02 +6 ft. fence 50-70′ ft. Right of the landing strip flanking full length of runway
RY 02 has powerline at 730 ft.
Parallel TWY West of RY – Grass
RY 02 Designated Calm Wind Ry.
Runway 20 has No End Safety Area
Runway 20 has a 6′ fence at 52′ left of centerline flanking full length of runway